FM Conway Net Zero Strategy
Our Net Zero Strategy sets out our roadmap for reducing carbon across FM Conway by 2045.
It is through our forward-thinking investment in sustainable solutions and commitment to continuous improvement, that we will address the worldwide issue of Climate Change.
The Net Zero Strategy is underpinned by our research and committed leadership. Our strategies facilitate and expedite FM Conway's sustainable approach along with offering a credible plan to give our stakeholders confidence in our ability to deliver.
Our strategy outlines the key areas in which we will tackle carbon and achieve net zero across FM Conway over the next 10 years, as well as highlighting and monitoring the actions we must take that will transcend our business.
View our Net Zero Strategy
We will publish our progress anually, via our Carbon Reduction Plan, which will include an update on our intensity ratios of carbon emissions per £m revenue and carbon emissions per tonne of asphalt manufactures, to help monitor progress as we grow.
We will deliver these carbon reductions through innovation in our buildings, depots, and asphalt plants, in our fleet through a move to zero emission vehicles, the use of alternative fuels and telematics, our business operations through the plant and equipment which we produce, and in the products we make through low carbon recipes, and manufacturing methods.
View our Carbon Reduction Plan
Developing a Collabroative Decarbonisation Strategy to Achieving Net Zero Emissions
We are delighted to have signed a memorandum of understanding with Shell that will see both parties develop a collabroative decarbonisation strategy towards achieving Net Zero emissions.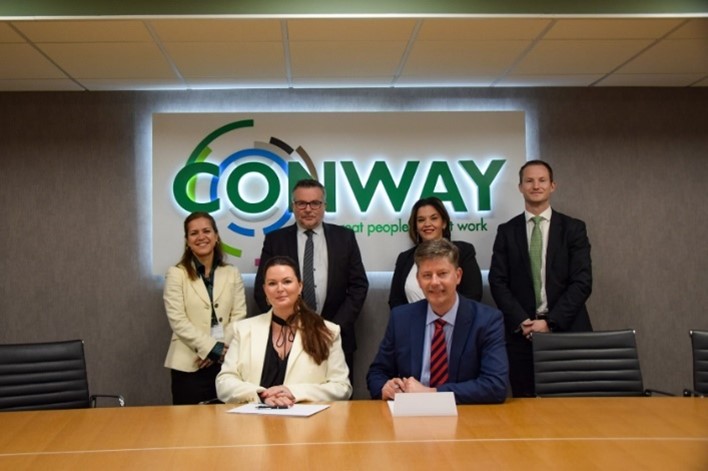 The agreement ensures that both parties will work together to achieve FM Conway's transition to carbon net zero and will focus on the following areas of business:
Energy Managment
Transport
Plant and Tools
Sustainable Bitumen and Asphalt Technology
Carbon Offsets
Training and Development
The joint strategy will explore options such as renewable energy solutions, and next generation fuels, as well as exploring a collabroative approach for both FM Conway and Shell's electric vehicle (EV) charging solutions, SureCharge, and Shell Recharge respectively.