A Year In Industry
Kieran Collins, Business Management student at the University of Southampton, recaps on his placement year as a Marketing Assistant at FM Conway.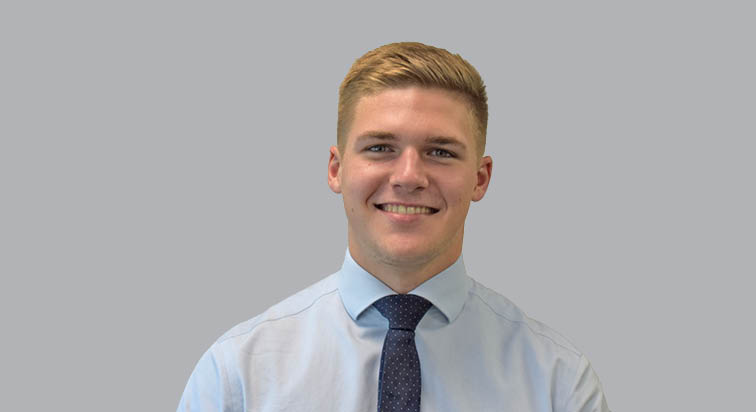 This past year at FM Conway has been without a doubt the most fulfilling and enlightening year throughout my journey at University so far. The time has flown by and it feels like only yesterday when I was sat in my induction, not knowing what to expect.

I'm not sure why, but prior to starting my placement I had the expectation that I would be looked down upon, or given purposeless tasks with my ideas overlooked. However, the reality is that I have been respected, valued and given a significant amount of responsibility across a huge scope of projects and tasks.

My day-to-day role consists of working alongside my colleagues in the marketing department, updating the website with new content, managing the marketing email account, planning and leading the corporate social media activity, building case studies, planning and executing any marketing events and anything else that may come up! It's a bit of cliché, but every day is different here and I think that's what I've enjoyed most about it.

My role also provides me with additional opportunities to work with various divisions in the business to ensure I meet all my objectives. For example, when building case studies, I meet with project managers across the business to gain a greater understanding of the schemes and meet the teams involved. Initially these were quite daunting, but soon became incredibly enjoyable as I had the opportunity to meet and work with new people across fantastic projects. I naturally enjoy meeting new people, so my excitement towards this has definitely grown in tandem with my confidence in my role, making the experience far more enjoyable.

My most recent and one my favourite projects to work on was the Illuminated River project, which when complete will be the world's longest public art commission - lighting up 15 of London's bridges in a uniformed light display. Luckily, I didn't have to get my hands dirty. Instead, I was involved in creating the communication plan for the project - mapping out the activity of social media posts, blogs, photography, filming and anything else that needed to be strategically monitored. Going out to site and seeing the scope of works was great fun, especially being in the centre of London.

My main responsibility as Marketing Assistant has been leading the social media activity. When I joined the company there wasn't a significant amount of engagement across all social platforms – Facebook, Twitter and LinkedIn – so I saw this as an exciting opportunity to help grow FM Conway's online presence throughout the year.

As I've developed within my role, I've recognised and further understood the importance of social media regarding client relationship management and business promotion. As well as creating new ideas for content individually and as a team, this role also enables me to work with new people across the business to collate new content, furthering not only my communication and interpersonal skills, but also my creativity. The good thing about social media is that there is always something going on within the company, and something new to learn about! It's also a great feeling when a post of yours receives great feedback and gets a lot of engagement.

To keep up with social trends, I played a big part in introducing FM Conway's Instagram page – which is growing by the day and has been incredibly enjoyable to lead. Since July, we have gained just over 4000 followers across Facebook, Twitter, LinkedIn and Instagram, completely reshaping the company's online presence.

In November I had the privilege of spending two days at Highways UK in Birmingham, representing FM Conway. By operating FM Conway's stand alongside other Conway staff, visiting the stands of other companies and attending speaker sessions, I was able to network with key clients and further my understanding of the industry. This was a completely new experience for me and one I didn't think I'd have the opportunity to do. So, this is definitely up there with one of the best experiences throughout the year!

More recently I attended 'Digital in 2019', a Hootsuite conference in Westminster, where I realised the significance of the digital landscape and its influence on business performance via social media. Being responsible for FM Conway's social media presence, it was eye-opening to hear from social media experts on how to most effectively apply social media strategies. What was interesting about both experiences was that I knew so little about the topics when I originally went in, but I left feeling informed and enthusiastic towards how I would go and apply this knowledge within my role.

Whilst being in the marketing team I have had the opportunity of managing two corporate films, one being FM Conway's family film and the other for the Illuminated River project. Through these experiences I've been able to meet and work with loads of people across the company, making the experience incredibly enjoyable and rewarding.

I'm very proud of the new 'Our Family' page that I introduced to the website. These mini people profiles showcase the range of great people that work at FM Conway and reinforce the 'family' element on the website - https://www.fmconway.co.uk/careers-hub/our_family. By also introducing this to social media with weekly quotes, it keeps the family element consistent and reminds our followers of who we are!

FM Conway has taught me an unparalleled amount; far more than I thought I would gain from a year in industry. Every day has taught me something new and I have my fantastic team and everyone else at the company to thank for that.

It's funny to think that the year in industry was initially the aspect of my degree I was least looking forward to, however has proven to be the most enjoyable and informative part so far. Now looking back at the past 12 months, I am happy to say that the skills I initially thought were my strongest, were in fact the skills that have been tested the most.

Saying I'm going to miss FM Conway and the friends I've made over the past year is an understatement. It's been an incredible year and one I'll never forget. Roll on my next challenge!